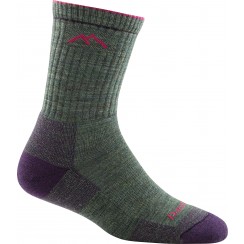 We live and work in Vermont. Our backyard is the perfect testing ground to make the finest Premium All Weather Performance Socks. We ski, snowboard, hike, bike and run in the most unforgiving climate in the lower 48. It is under these conditions that we design, test and manufacture our socks.
High Density Knitting
More knit stitches per inch equates to durability and cushioning without bulk.
Performance Fit
From form fitting toe boxes to sculpted heel pockets and knit-in elastic support at the arch, our knitting techniques produce the finest fitting performance sock available.
Merino Wool
Our custom count, shrink treated Merino wool enhances the comfort and durability that outdoor enthusiasts have come to expect from this fiber.
Coolmax®
Because wool is not for everyone. We use an exclusive Coolmax® blend to create a sock with exceptional softness, durability and superior moisture management.
Ribbed Knit
Form fitting to the contours of your calf, shin and ankle ensuring a custom fit.
Ribbed Ankle Support
No Slipping. No Bunching. Helps prevent blisters.
Elastic Arch Support
Knit into the arch of all of our socks to provide added endurance.
Ring Toe Construction
Terry loops surrounding the toe create a comfortable invisible seam.
All of our socks are Guaranteed For Life—no questions asked!
Learn more about these great socks! DarnTough2016.