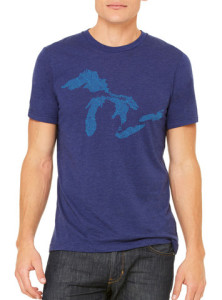 Tee See Tee owner and graphic designer, Beau Warren, creates extremely comfortable T shirts and other products that focus on Michigan and the Great Lakes.Beau likes to keep his line fresh, so his designs change and are limited.  Everything is printed and finished in Michigan.
"As far back as I can remember, I have been obsessed with t-shirts.  I remember my mom taking me to the craft store to buy puffy paint, so I could draw yin yangs, killer whales, and peace signs all over my boring blank t-shirts.  This was my first foray into a t-shirt business, as I started trading my puffy paint skills for snacks at school." Beau Warren
These T's will put a smile on your face and  become a favorite in your 'comfy kick back' wardrobe.